Granite Countertops Hickory NC
Call Us Today at 828-238-8395
We would love to have you stop by our showroom so that we can help you find the perfect countertop for your next project!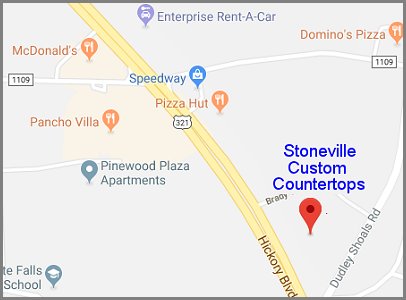 Showroom Location
4030 Hickory Boulevard Suite #1
Granite Falls, NC 28630
Phone: 828-238-8395
Located in the Willow Tree Plaza Shopping Center,
1/4 mile north of the Granite Falls exit on Hwy. 321.
Sales Representative:  Astrid  (828)781-6168
FABRICATION CENTER
120 Duke Street, Granite Falls, NC 28630
Open Hours
Monday-Friday: 8am – 5pm | Hours vary on Saturday please call
ASK A QUESTION / REQUEST A QUOTE
We would love to hear from you!
Feel free to ask a question or if you'd like us to visit and give you a quote, let us know that too!